#1 Android App Development Company
With our pool of talented experts, we build and deliver results in a timely manner using advanced technologies. Our apps are designed to execute smooth performance with added value for your business or brand. Our team's expertise includes the use cutting-edge software engineering practices such as mobile app development through nativization on Android devices - giving you access no matter where it takes hold!
Book your 30-min free consultation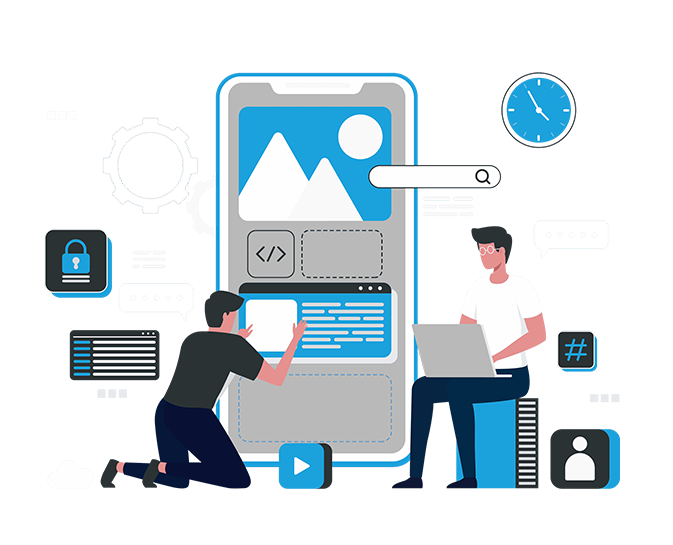 Convert Your Ideas Into Android App
With our Android App Development Services, we ensure that your app will be both futuristic and easy for end users. We at Remote Stacx understand that every business has different needs and requirements. Our app development services are designed with futuristic ideas, a user-friendly approach which will fulfill your expectations as well!

Strategic Planning
The app will be tailored to meet your unique business needs and expectations. We only develop an Android app when you understand business thoroughly enough so that development can happen effectively without any problems or issues. We'll work with you through the process of developing it, so that everything falls into place seamlessly once we're done!

Designing and Development
The user interface is what sets an app apart from other programs and makes it easy for people to use. When designing the Android App, we pay close attention not only in graphic design but also functionality so that your product can meet customer requirements while being attractive at first glance.

QA and Testing
With our team of expert testing professionals, we check the app thoroughly for quality analysis and revision so that it can properly function on Android devices. We take pride in our team's expertise and ensure that the app is top notch before releasing it to you!

Downloadable App is ready
Well done! You've been working hard to create an awesome app that will help your customers interact with you better. The Android app is now available for download in a downloadable format. With this new release, you can connect with your customers and engage them more intensely than ever before!
Our Android App Development Process
We are the leading Android app development agency in USA known for hoisting your development methodology, reinforcing practical solutions, planning consistent experiences, and developing apps that enhance the clients' lives with our custom android development services. We are a #1 Android application development company that creates custom Android applications for all industries and domains.

App Discovery

UI/UX Design

App Architecture

Quality Assurance

Multi-platform Development

Play Store Submission

Post-launch Maintenance
Industries We've Served Till Now

Social Networking Apps
Make a superior customer experience with elite social networking applications. Make your business more fruitful by utilizing our inventive apps to get new customers.

Party Manager Apps
Want to create your own party manager application? We create apps to make life simpler and exciting. Presently, you can manage and automate your next occasion effortlessly.

On-demand Apps
Regardless in the event that you're a freelancer or a renowned business person, we can assist develop your business with our app development solutions.

Listing Apps
Prepare for the fate of listing apps with our inventive and strong innovation. We plan wonderful and functional apps for your need.

News/Media Apps
With our imaginative News/Media applications, we permit you to make astounding content that will be shared across all platforms.

Chat Apps
Need the most inventive chat application for your business? Allow us to make the ideal app that will help sales and customer engagement in a significant manner!

eCommerce
Our team of capable designers are devoted to making an easy to use, high converting eCommerce application that will boost your business productivity.

Health
With our inventive apps, you can track your health and fitness goals. Our team of engineers are building the cutting edge health and wellbeing apps to assist you with carrying on with your best life.

Non-Profits
If you want to create a next generation Non-Profit application? Our team can help you and provide you the best apps for your community!

Security and Encryption
We make robust applications that keep your data secured and without any hassle. With us, you can safeguard your data with the most recent security measures.

Finance
Our team is passionate about creating apps that make your life simpler. With our strong Finance Apps, you can deal with your money proficiently!

Travel Apps
From arranging your next trip to getting to information about neighbourhood attractions, our travel applications will make it simple for you.
Why Choose Remote Stacx for Android App Development Services
We develop tailor made Android applications for your business or personal use at affordable prices. Our priority is to develop quality and secure apps that perform faster than any other average app out there on the market today.
We have specialization in creating customized Android apps for our diverse clientele. We take pride and utmost care to provide only top-notch quality workmanship with latest technology enhancements so that your project can run smoothly as possible from start until finish without any hiccups or glitches along the way!
We help companies design and develop APIs that can be used by different applications. We build a digital framework initially for programming the reusable components, codes & functionalities of any given API's programming language(s).
We are a team of experienced developers who have helped many businesses develop their own tailored Android apps. We make sure your app meets high standards and will be compatible on all major devices, while still following the most efficient development strategy for you as our client!
We work hard to make sure that all of our client's needs are met during each stage. We provide regular updates, reporting on progress made as well as suggestions where improvement can be made for an even better end product!
We work hard to meet deadlines and plan our workflow carefully. We make sure that every team member has their task dedicated just for them so there are no overlapping efforts or unnecessary delays in the project completion.
Frequently Asked Questions
Based on our broad experience as a renowned android app development agency and the questions that our accomplices ask, we have listed the accompanying frequently asked questions.
Why should we use Remote Stacx over another agency?

Our customers choose us due to our expansive abilities - They realize we can effectively convey complex applications and online portal development projects. We have over a decade of experience with tackling a wide range of issues, for example, working alongside existing development groups, working with legacy frameworks to help new app developments, fabricating technically complex elements, and uniting frameworks, processes and applications with consistent integration.

Can you give me a fixed-price quote?

Yes, we can. Before we start your project, we work with you to compose an itemized project specification and afterward furnish you with a fixed-price quote to convey the work. This cost and specification safeguard you: you can consider us responsible to convey definitively what has been put to paper for that accurate expense. Before we start your project, we work with you to compose an itemized project specification and afterward furnish you with a fixed-price quote to convey the work. This cost and specification safeguard you: you can consider us responsible to convey definitively what has been put to paper for that accurate expense. A fixed cost and exact specification might take a responsibility of time from yourself and Remote Stacx to reach. Before that responsibility is made, you might receive a ballpark quote.

Can you give me a ballpark quote?

Indeed, we will constantly attempt to give you a ballpark or approximate cost as soon as could be expected; regularly on your most memorable call or email. Having a harsh thought of expected costs at the earliest opportunity assists you with qualifying whether what you have as a top priority is financially plausible and in the event that you might want to research further.

I've got an idea, where do I start?

Talk to us. If you share your idea via this form, one of our team will respond within one working day by email or phone. Converse with us. Assuming that you share your thought through this form, one of our teammate will respond within one working day by phone or email. Also, you can give us a call on the given number.

Can you build apps for both iOS and Android?

Indeed, the majority of the apps we make support Android and iOS mobile platforms. It's common for individuals to believe their apps should function across web and smartphone devices. We use development frameworks, for example, React and React Native that empower us to rapidly support both platforms.

Do you build web applications too?

Yes, virtually every mobile app that we create likewise needs an online application in the background to drive it — at any point signed into an app? There is a web server behind the scenes, serving the app with information that is checking regardless of whether you have permission to sign in. We build some web apps that are straightforward admin panels for refreshing information as an administrator client, and we fabricate others that are progressed and intelligent tech items. We assemble front-end web apps utilizing the React framework, which is appropriate to make rich and extendible UIs, however we can uphold different frameworks.

What kind of support will I receive throughout the development process?

You will be acquainted with our team, who will be your essential resource all through the development process. You can contact Remote Stacx via phone or email, and we also have a dedicated support portal which allows you to track the status of requests, have discussions, and upload other useful information. We also offer a range of support and maintenance options to ensure we are responsive to your requests after the launch date.
© 2023 Remote StacX. All Rights Reserved