Hire Ecommerce Developers In India
Work on your e-commerce site with dedicated developers who are familiar with your company's core values and will create the best e-store for your business. In order to create an outstanding e-commerce website, our programmers make it a point to keep their skills up to date and to keep up with the most recent technological developments and tools.
With 10+ years of expertise and 100+ developers, we have delivered 5000+ successful projects and served 2500+ happy customers across the world.
Go for Hire Ecommerce Developers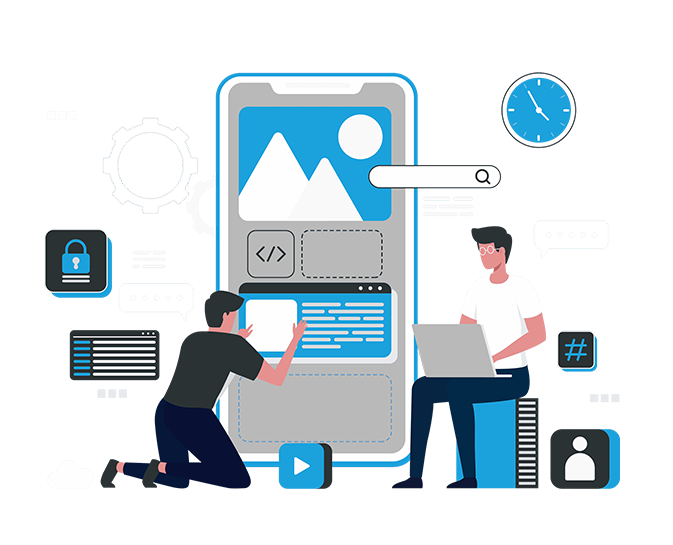 Hire Professional eCommerce Developers in India to Build Trust
We offer professional eCommerce developers who will help you develop a website that not only looks amazing but also provides a seamless user experience. Our developers are experienced in creating fully functioning websites that are user-friendly and eye-catching. Our team of IT professionals ensures that your solution is attractive, secure, and easy to maintain.
Whether you are just starting a new business or simply looking to expand your current business, hiring one of our professional eCommerce developers is the right way to go. With them, you will have a team of experts at your disposal who are dedicated to helping you create a website that meets your business needs. Our professionals will work with you to meet your specific goals while still giving you the freedom to customize your website to your liking.
At Remote StacX, we strive to provide top tier solutions as quickly as possible. Our developers understand the importance of time and will have your website up and running quickly. We also make sure that the website you create will be secure and easy to maintain. In addition, you can count on us to provide the latest eCommerce solutions and technologies in order for your website to be successful.
Our eCommerce Platform Expertise
Our engineers use the most cutting-edge eCommerce development tools and technologies to construct flawless solutions.

Magento Commerce
The best-in-class features of Magento Commerce enable you to provide streamlined shopping experiences for both B2B and B2C commerce.

Shopify
Shopify powers your business operations by streamlining processes and helping client-friendly functionalities, and more.

WooCommerce
WooCommerce is a popular and most used eCommerce plugin for WordPress portals, comprising extensions as well as easy-to-use capabilities.

BigCommerce
BigCommerce is a functional-rich platform for B2B and B2C customers. The framework will help you develop a site with amazing catalogs.

Drupal Commerce
Drupal's eCommerce version, Drupal Commerce, is mostly used to create online commerce portals and applications.

CS-Cart
CS-Cart is majorly used multi-vendor eCommerce frmework. It provides features like editable source code, and drag-and-drop templates.
Why Hire ECommerce Developers From Us

Evaluate Resource
Our technical experts are hired after passing thorough screening and background checks. We recruit the right people with the expertise and experience necessary to complete.

Assurance of Quality
We guarantee complete client satisfaction and uphold our high quality standards. Our team constantly strives for improvement.

Data Security
Our top priority is safeguarding each client's private information. We act proactively and adhere to regulations, compliance, and best practices as a team.

Flexible Billing Models
Customers have the option of selecting an appropriate billing model during the hiring process. You can choose to pay each month, pay as you go, or spread out the payment over a set amount.

Consultative Approach
We use a consultative approach to gain a clear understanding of the fundamental need and present a series of solutions that meet your business's requirements.

Transparency
We communicate frequently to ensure the smoothest possible service delivery and the highest level of transparency. We follow the options for user testing and review meetings.
Frequently Asked Questions
When it comes to custom hybrid app development, our clients frequently ask us the following questions:
Is ECommerce Important For Business?

If you want to increase your visibility on search engines, you now have to do it. You can get the best eCommerce strategies and solutions to match your customers' search intent with the assistance of the best eCommerce developers. It will undoubtedly increase your revenue and organic traffic.

Why Do I Need A Top Ecommerce Developer?

Your website's structure and navigation will be improved by an eCommerce developer to match search engine algorithms. Design and development, payment gateway integration, website speed, and response time are all part of this. You just need to hire eCommerce developers who can handle your website's most recent features and functions.

Do Ecommerce Store Require Developers?

As eCommerce developers, we are of the opinion that the best strategies will propel your brand to the top of search engine results. With high user engagement, this opens up more opportunities to increase sales and increase return on investment.

How Will An Ecommerce Developer Help My Store?

People are using search engines for basic requirements more these days. If you run an eCommerce business, you need to make your website's navigation easy to use so that customers stay on your site for longer. Applying one's best efforts will result in effective returns and accelerate the company's growth.

How do I hire an e-commerce developer?

Step 1: Define the requirements of your project. Before hiring ecommerce developers, you need to know what you want the project to accomplish. This will assist you in finding the ideal candidate for the position. It will also guarantee that you are hiring an expert in your chosen field who can meet all of your requirements. Step 2: Find someone to develop your project. Finding the right eCommerce developer is the next step after defining the project's requirements. You can read about the developers of some e-commerce websites by browsing through them. However, it is always preferable to look within your own local developer network for the best ecommerce web developers. Step 3: Set up a meeting to discuss the needs and objectives of your project. Set up a time to talk after you find a candidate and learn more about your project. Make certain that the person with whom you are speaking is a native speaker of your language. During the meeting, this will help improve communication and provide a more precise explanation of the project's concepts and objectives. Step 4: Conduct a review of their previous works. It's time to look at their previous work now that you've found an expert for your eCommerce site. Examine some of their most recent projects to find features that are comparable to your own. Step 5: Examine the technical viability. You need to check the developer's portfolio to see if the work they did on their website will be needed for your project. If not, you can involve them in the creation of new project features.

What programming language do your e-commerce developers use?

To create, optimize, and enhance the online stores of our clients, we employ extensive knowledge of HTML, HTML5, PHP, Ajax, and jQuery.