Web Development Services
250+ back-end and 50+ front-end developers
Web development services help create all types of web-based software and ensure great experience for web users. At Remote Stacx, we provide professional web development services that help create all types of web-based software. Our services ensure a great experience for web users, with high conversion and adoption rates. Our team design, redesigns, and supports customer-facing and enterprise web apps to ensure high conversion and adoption rates. By providing expert services, we are able to help our clients achieve their business goals.
Go for Web Development Services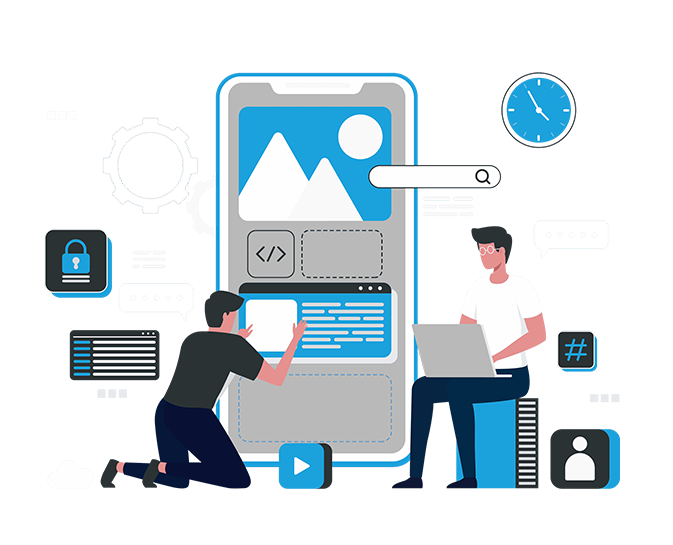 We offer range of Web Development Services
Our Web Development Process
In order to keep our web development process organized and efficient, we utilize a variety of different tools and methodologies. Below is a brief overview of the steps that we take in order to create a website.

Idea
At the heart of every successful web project lies a brilliant idea. We begin by listening to your vision and objectives. Our team of experts collaborates closely with you to brainstorm ideas, understand your target audience, and define project goals. We ensure that your web solution aligns perfectly with your business objectives before moving forward.

Research
Once we have a approved design, the next step is to do research on the topic of the website. We gather information on the competition, what similar websites are doing, and what our target audience is looking for. This information helps us to create a better user experience and determine the best way to structure our website.

Design
After researching the topic, we start designing the website. This involves creating wireframes, storyboards, and mockups to get a better idea of how the website will look and function. We pay close attention to detail and make sure that the website is visually appealing and easy to use.

Build
With a clear vision in place, we roll up our sleeves and start crafting your website from the ground up. Our talented team of developers, designers, and UX experts work in harmony to build a responsive, user-friendly, and visually stunning website. We pay meticulous attention to every detail, ensuring that your website not only looks fantastic but also functions seamlessly.

Testing
Before launching the website, we test it extensively to make sure that everything is working correctly. We check for any errors or problems with the design or coding, and fix them accordingly. We also test the website on different browsers and devices to make sure that it looks good and functions correctly on all of them.

Launch
After testing is complete, we launch the website! We announce it to our followers and customers, and help promote it through various channels like social media, email marketing, and search engine optimization. We continue to monitor the website's performance and make any necessary adjustments or updates along the way.
Why Choose Us As a Web Development Company?
We believe in providing quality web development services that are effective, efficient and affordable. We have a team of experienced and skilled web developers who can help you with all your web development needs. We also offer a wide range of web development services, including:

99% Client Retention Rate
We have a 99% client retention rate, which means that we are good at what we do and our clients are happy with our work.

Quality
We produce quality work, which means that our clients are happy with the final product.

Technical Support
Our technical support is top-notch, which means that if any problems arise, our team is there to help.

Affordable Price
Our prices are affordable, so our clients don't have to break the bank to get good web development work done.

On Time Delivery
We always deliver on time, which means that our clients can rely on us to meet their deadlines.
Frequently Asked Questions
When it comes to Website development, our clients frequently ask us the following questions:
Will my website be mobile and search engine-friendly?

Yes, your website will be mobile and search engine friendly. We use responsive design which will automatically adjust the layout of your website to fit any screen size.

What is the best framework for web development?

There is no one-size-fits-all answer to this question. Different frameworks are better suited for different development needs. We will work with the framework that is best suited for your project.

I want specific technologies. Can you work with that?

Yes, we can work with specific technologies if needed. We have a wide range of experience with various web development technologies and can select the right ones for your project.

How long will it take to get a new website?

It typically takes about 4-6 weeks to develop a new website from start to finish, although this timeframe can vary depending on the complexity of the project.

How much does a new website cost?

The cost of a new website varies depending on the size and complexity of the project. We offer free quotes so that you can get an accurate estimate for your project.

Do you provide support services after the website development is complete?

Yes, we offer support services after the development process is complete. This includes troubleshooting, bug fixes, and updates as needed.