PPC Services Company India
With more leads and lower costs, you'll be able to spend less time on marketing so that every dollar is put toward generating new business. Remote Stacx has the power to make your business thrive with a lower-cost per acquisition and an incredible RoAS. We will show you how we can deliver more leads, better return on ad spend (Roas) than ever before!
Go for PPC Services Company India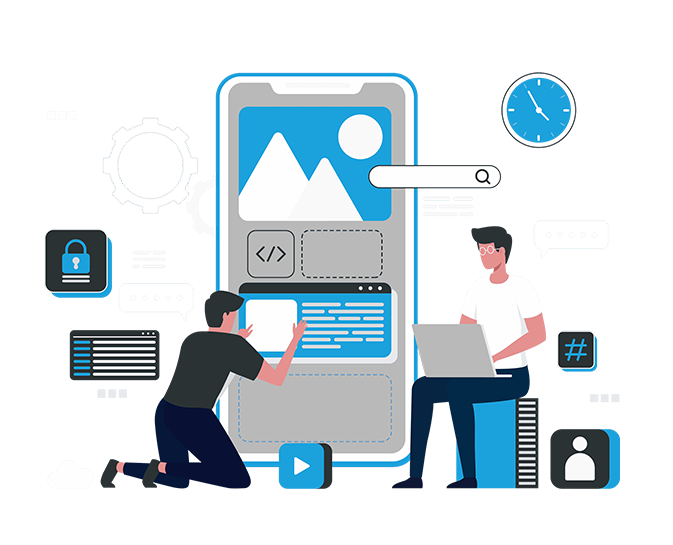 Our PPC Advertising Services

Search Advertising
One of the most critical channels in Pay-Per Click advertising is search. We use different terms for it - Paid Search, SEM and PPC etc., all meaning exactly same thing! Contact us today.

Display Advertising
With our Display Advertising services, you can target a specific audience and be guaranteed high-quality results. Our team of highly-trained professionals are here to provide you the best solution.

Social Media Advertising
We offer Social Media Advertising Services that will make sure all relevant people see an ad when they search specific keywords related directly back towards where this advertisement came from!

Remarketing
Our remarketing services help you to reach your audience with ads tailored just for them!We are experts at creating Remarketed Ad campaigns that drive traffic back into your website, increasing sales and decreasing customer acquisition costs.

Google Shopping Ads
Google Shopping is an efficient and cost-effective way to reach your customers. We create ads that appear alongside search results on Google, ensuring you get found by people who are looking for what's happening right this second!

Mobile Advertising
With our Mobile Advertising services, your brand can be seen on the go. We create optimized campaigns that target specific demographics and offer you complete control over where these ads appear.
About Pay-Per-Click
The idea of Pay-per click digital marketing sounds like a win-win deal, doesn't it? This means that search engines will list your website at the top of their results page as long you get paid every time someone clicks on one these websites. So how does a company get their website on the front page of Google?
Google Ads is a powerful tool that will help you get leads and make more profits. A Google Ads agency specializes in helping businesses like yours grow by understanding what goes into creating top search engine results, so they can cut down on their commission while still achieving success with the promotional campaign - all without sacrificing quality!
Hiring a Google Ads agency can do wonders for your business. This specialized team will focus specifically on ensuring that ads appear high up in search engine result pages (SERPs), instead of distracting attention away from other companies by focusing their efforts elsewhere; it's all about getting leads and increasing profits with this powerful tool at hand!
You can make your ads more creative to get a higher price from Google. The agency will help you understand what goes into making an attractive, reputable website and then convert those visitors into customers with their power of perfected internet marketing skills!
The internet is one of the most powerful tools for modern-day businesses, especially those looking to grow their customer base. However, it can be difficult if you don't have a good digital marketing strategy in place that involves Search Engine Optimization and Pay Per Click advertising campaigns on sites like Google or Bing.
To ensure a high return on investment, our PPC experts will optimize your keywords and target the right audience with an innovative advertising strategy. We have years of experience in search engine marketing that we can put towards increasing lead conversion rates for you!
Our Data-Driven PPC Management Process

Keywords Research
We use the power of keywords to bring you relevant search ads. We will start by making a seed list with all our possible hits, then select those that are most likely going to get clicked on in your industry and finally optimize them for maximum visibility!

Competitive Analysis
With our data analytics, you'll have a competitive advantage by staying on top of what your competitors are up to. We can even optimize PPC campaigns based off numbers from the industry and demographics in order to best suit YOUR needs!

Researching Target Market
Targeting your campaigns is a delicate process that requires an in-depth understanding of who you are targeting, what they care about and how to reach them. The first step towards this goal begins by meticulous research into their pain points which will compelling enough for them act upon it

Create Target Ad Copy and Landing Page
The creative team will create engaging ad copy that captures the audience's attention. It has been proven to be one of our most successful strategies, so we're betting on it this time around!

Set Up Analytics and Data Tracking
Analytics are used to measure the performance of your PPC campaign. This data can then be analyzed and tracked over time, which helps you make decisions based on evidence rather than guesswork or intuition alone!

Monitor On-Going Campaigns
Let us turn your business idea into a reality by providing comprehensive performance tracking for all of the ads you place. Our team watches your ads like a hawk to make sure they're on point and give you the best possible return.
Why Choose Our PPC Experts?

Detailed Reporting
You can rest assured that your campaigns are being managed by the professionals at Remote Stacx. We'll keep you informed about everything from creative development to campaign reporting, so there's no need for stress or wondering what comes next!

Dedicated PPC Specialists
We think that you should have an easy time doing search engine marketing for your company. That's why at Remote Stacx, we strive to make it as straightforward and simple with all of those complicated procedures.

Customer-Focused
Clients should feel like they are the only person in charge. That's why we hold monthly meetings with our clients so you can put their needs first and ask questions without feeling uncomfortable or shy about it!

Commitment
It's no surprise that we're the best at what we do. From creating powerful campaigns, to making sure they drive results for your business - you can always count on us. With our PPC services, we strive to offer the best solutions.
Frequently Asked Questions
While PPC can be an effective way to drive traffic to your website, it's important to understand how it works before you dive in. Here are answers to some of the most frequently asked questions about pay per click advertising.
Is Pay Per Click (PPC) right for my business?

The answer to this question depends on a number of factors, including your business goals, your target audience, and your budget. However, in general, PPC can be a great way to reach new customers and grow your business.

Why would I pay for a search engine advertising?

Paid search advertising allows you to showcase your ads at the top of the search engine results page (SERP), which means that potential customers are more likely to see and click on your ad. This can result in more web traffic and leads for your business.

What makes you different from other paid marketing agencies?

At Remote Stacx, we pride ourselves on our personalized approach and our commitment to our clients' success. We will work with you one-on-one to develop an understanding of your business goals so that we can create a custom PPC campaign that will deliver the results you're looking for. Additionally, we offer ongoing support and optimization so that you can continue to see results long after your initial campaign has launched.

Why is my cost-per-click increasing?

There are a number of reasons why your cost-per-click might be increasing. It could be because there's more competition in your industry or because inflation has increased the cost of keywords over time. Additionally, if you're targeting new keywords with high commercial intent, you can expect to pay more per click than you would for less competitive keywords.

What other services do you offer?

In addition to PPC campaigns, we also offer SEO services, social media marketing, web design and development, and more! No matter what your marketing needs are, we can help.