IT CONSULTING SERVICES
Create a comprehensive IT strategy for a digital and technological transformation of your organization that is in line with your business objectives by utilizing the expertise and extensive technical background of the best minds at Remote Stacx. Your software portfolio will be improved, operations will be automated and digitalized, and the most recent technologies will be implemented with our strategic IT consulting assistance.
Go for IT CONSULTING SERVICES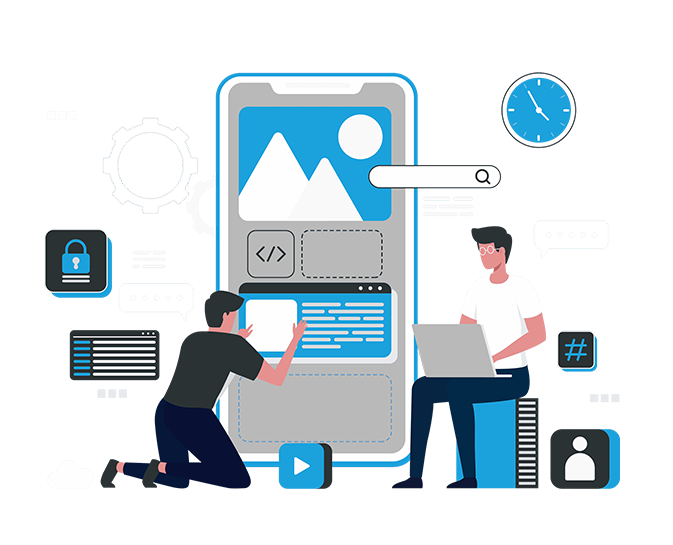 What IT Consulting Services Does Remote Stacx Offer?
From strategic IT planning and budgeting to security audits and compliance reviews, Remote Stacx provides a comprehensive range of information technology consulting services. Our IT consulting provides local presence, extensive resources, and exceptional expertise when you require expert assistance. Please get in touch with us to find out how we can help your business.

IT Strategy & Planning
IT Strategy & Planning One of our most frequently requested services is assistance with strategic IT planning. We see strategic IT as a key competitive advantage that enables you to invest in the right technologies today to prepare your business for the challenges of tomorrow. In collaboration with you, Remote Stacx IT consultants will draft a comprehensive strategic plan that links your company's objectives to both short-term and long-term strategies for achieving them.

IT Budgeting
Strategic IT planning goes hand in hand with IT budgeting. However, it is frustrating to attempt to construct a technology budget without a clear understanding of your company's requirements. Remote Stacx IT consultants work with you to create a realistic IT budget that takes into account your own resources and assets as well as the anticipated costs of new technology that will help you achieve your business objectives.

IT Assessments
There is a good chance that the layers of hardware and software that make up your network have grown gradually over time, and these layers may now be contributing to security gaps or inefficiencies that you didn't expect. Remote Stacx IT consultants can examine how your current technology is assisting or hindering your business and conduct a comprehensive review of your IT environment. You get a composed assessment of the key regions that need improvement, with focused on proposals.

Security Risk Assessments
As your company becomes increasingly dependent on technology, the inherent risks also rise. A single ransomware attack or data breach can cause significant financial, legal, and reputational harm. Your level of risk and a mitigation strategy to minimize and manage your threats and vulnerabilities are identified and defined in our comprehensive cybersecurity assessment.

Governance, Risk & Compliance
A lot of businesses must abide by standards and regulations like FINRA, HIPAA, NIST/CMMC, PCI-DSS, and ISO. Remote Stacx gives consistence availability risk evaluations, hole examination and remediation arranging, alongside review arrangement. Our IT consultants ensure that your business has a well-defined framework that ensures successful industry compliance.

Cloud & Data Migration Services
Many businesses are migrating their applications and data from on-premises data centres to private or public clouds in an effort to cut costs, improve security, and build redundancy. Our IT consulting can help you come up with the best cloud migration strategy, including setting up the right cloud security.
Why Partner with Remote Stacx
We can help you move away from traditional approaches to technology planning and provide the proactive technology consulting services you need to move your technology infrastructure in the right direction. This includes support for ongoing maintenance, direction for technology investment, and installation guidance for an enterprise system.
As part of our Technology Consulting process, we listen to your requirements, create enterprise-specific solutions, align our strategies with your goals, and deliver quantifiable outcomes.

Industry-certified Technology experts

End-to-end technical assistance

Diverse industry knowledge

Tailored solutions

High levels of transparency
OUR IT CONSULTING PROCESS
For over 10 years now Distant Stacx has been helping associations of various scale and construction to improve and modernize their IT methodologies.

ANALYSIS
Our IT consultants look at your current software solutions and how your employees use them to find automation and workflow issues.

STRATEGY
The advisors create a strategy and roadmap that will assist your company in utilizing the most recent technologies and decluttering its software infrastructure. Then, they set KPIs for the software and employees.

PERFORMANCE
Performance-enhancing IT consulting services necessitate client-IT consulting firm collaboration. Your workflows will be thoroughly examined by our professionals, who will monitor performance to identify any issues.

IMPROVEMENTS
After achieving the initial objectives, our software engineers and IT consulting advisors suggest next steps and assist with their implementation.
Frequently Asked Questions
When it comes to it consulting service, our clients frequently ask us the following questions:
Why Enterprise IT Consulting Services Necessary for Business?

In the modern digital market, it is essential to consider all aspects of the process when starting a new business or developing a new product. Nowadays, you need professionals on your team who can help you with your business strategy and have the necessary expertise. It is necessary because directing the company's digital transformation is difficult and requires years of experience, advanced technical skills, and knowledge of the modern market. As a result, we provide consulting services that assist businesses in automating internal processes and operations, maximizing the benefits of cutting-edge technologies, and optimizing their software portfolio.50 percent of success depends on having a strategy that works and is coherent. At Remote Stacx, we have all the tools and professionals needed to create a strategy that fits your business's needs.

Who Are IT Consultants and What Do They Do?

Companies need to hire IT consultants because of the fierce competition and the need for a solid background strategy to occupy your particular market niche and reach your target audience. Businesses and their products' business strategies are developed by technical consultants. They create and offer solutions that assist businesses in maintaining market dominance, meeting the requirements of contemporary customers, and increasing revenue for the business. In order to keep everyone on the same page, consultants act as intermediaries between customers and project teams. They keep up with all the most recent changes, news, and trends so that businesses can keep up with them, adapt to them, and grow. Remote Stacx works with experts who can devise individual business strategies for our clients, have excellent analytical skills, and are familiar with every aspect of the contemporary market.

What Software Consulting Services Do We Offer?

Our IT consulting services are geared toward improving your software architecture, developing a tech-based digital strategy, and improving operations through software portfolio optimization. We live in a world that moves quickly and sets high standards. If you want to keep your position on the market, you need experts on your team who know how to move from old IT systems to new ones quickly and affordably. We want to assist you in remaining competitive, providing high-quality services, and catering to modern customers' requirements. Experts at Remote Stacx look at how businesses and their employees use their software and offer suggestions for how to improve the infrastructure that is already in place, incorporate new technologies, and make necessary adjustments. Our teams are aware of all digital transformation pitfalls. They have innovative concepts and solutions that will assist you in staying competitive and make it easier for your employees to do their jobs.

How many technical resources will you assign to my project? Will they be dedicated? Are they local?

At Remote Stacx, we know that the work you do is important. That's why we want to make sure you have everything you need to get it done right. We'll assign one technical resource to your project, and they will be dedicated to working on it. They'll use their own equipment, so you can be assured that they are using the best possible tools for your needs. The remote team members will also be local, so we can ensure that any questions or issues get addressed quickly and efficiently.

How many relevant industry and vendor certifications does your team have?

At Remote Stacx, we have a team of over 100 people and we're proud to say that all of them are actively pursuing industry and vendor certifications. Our highly-qualified team is comprised of individuals who are passionate about technology and who want to use it to help companies grow their business. They are also skilled in the areas of web development, mobile application development, design, marketing, sales, customer service and management. We believe that it's important to keep learning and improving ourselves as professionals—and that means encouraging our team to do so as well.