Mobile App Development Company
If you are searching for a top mobile app development company, you have come to the right place. We offer a wide range of services to help you develop your mobile app from scratch. Whether you need Android or iOS app development services, we can help you get started. We have a team of experienced professionals who are dedicated to providing the best possible service to our clients. We have designed and developed over 5100 Android and iOS-based mobile applications from scratch. We know what it takes to create a successful mobile app and we are ready to help you achieve your goals.
Book your 30-min free consultation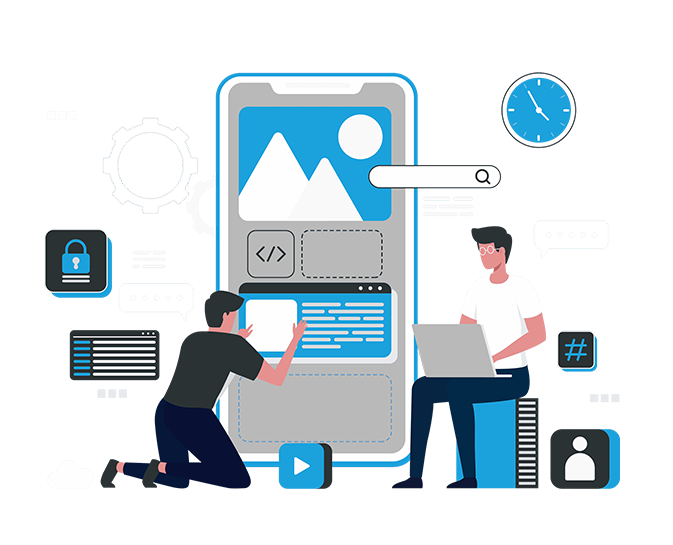 Mobile App Development Services
We provide full cycle custom cross-platform app development services to our esteemed customers. Our app development process is designed to deliver high-quality, scalable and stable apps that meet the specific needs of our clients. We have a team of experienced and skilled hybrid app developers who have in-depth knowledge of the latest tools and technologies. They are capable of developing innovative and user-friendly apps that can help businesses achieve their goals.

iPhone app development
If you're looking for a partner to turn your raw app idea into a successful iPhone app, look no further than us. With over 3000 iPhone apps developed across various categories, we have the experience and expertise to make your app a success. We understand what it takes to develop a successful iPhone app, right from conceptualization to design and development. We also offer post-launch maintenance and support services to ensure that your app stays up and running smoothly.

iPad app development
iPad app development is not only our specialty but our passion. Our team of top iPad app developers are experts in native app development and have a deep understanding of the platform. This allows us to create custom iPad apps that are not only functional and user-friendly, but also add value to your business. Whether you need an enterprise-level app or a consumer-facing one, we have the experience and expertise to deliver a high-quality product.

Android app development
Our team of Android developers are experts in the latest technology and have years of industry experience. We have a proven track record of developing successful Android apps that get funded and covered by top media outlets. We know what it takes to create a winning app, and we can help you every step of the way – from planning and development to launch and marketing.

Web Development
If you have a custom web app idea, the team at Remote Stacx can help make it a reality. With years of experience in mobile web app development, we are dedicated to creating engaging apps with a user-friendly experience. We will work closely with you to understand your vision and ensure that your app meets all your needs. Our team has the skills and knowledge to bring your custom web app idea to life.

Mobile App Design
If you're looking for dedicated mobile app developers to build a feature-rich mobile app, you've come to the right place. Our team of experienced developers has more than 4400 successful apps under their belt, including Glovo, TOR, and One8. We'll work with you to understand your vision and requirements, and then use our expertise to bring your app to life. Whether you need a simple MVP or a fully-fledged enterprise solution, we're confident that we can exceed your expectations.

App Development Consulting
If you're looking for a reliable and experienced app development consultant, you've come to the right place. At Remote Stacx, we have a team of experts who can help you achieve your business goals and drive maximum ROI. We understand the challenges of developing a complex app, so we'll work closely with you to ensure that your project is a success. We'll also provide guidance on how to maximize the value of your app and make it more user-friendly.
Best Mobile App Development Company India
With the help of a mobile app, businesses can provide their customers with a convenient way to access their services. Customers can use apps to book appointments, make purchases, and track their order status. In addition, mobile apps can also help businesses keep their customers informed about new products, special offers, and upcoming events. By using push notifications, businesses can send timely updates and reminders directly to their customers' phones. Mobile apps can also help businesses save money.
If you're like most people, you probably have a great mobile app idea but don't know where to start. Don't worry, you're not alone. In fact, 8 out of 10 mobile users look for the product online and research it before buying, and almost half of them look out for mobile applications related to it. Mobile apps are transforming the way people eat, travel, shop, move, and even interact! And that's why if you have an excellent mobile app idea, the ideal time to bring it to reality is now.
Contact Us
Thank you! We will get in touch soon.
Our Mobile App Development Process

Analysis of Requirements
Once we have gathered all of the information about your business goals, target market, and feature requirements, our team will analyze everything to make sure that we are on the same page. We want to ensure that we fully understand your vision for the app before creating a blueprint.

App Development Consultation
Our team will consult with you to get a better understanding of your business goals, target market, and feature requirements. We want to ensure that we fully understand your vision for the app before creating a blueprint. This way, we can make sure that the final product aligns with your expectations.

Wireframing & Designing
After the consultation, our team will start wireframing and designing your app. The wireframes will be a skeletal outline of the app's features and UI. This is where we start to put your vision into a tangible form. Once the wireframes are approved, our designers will create high-fidelity mockups of each screen.

Development
After the wireframes and mockups are approved, our team of developers will start building your app. We will use the latest technologies and best practices to create a high-quality product that meets all of your requirements. Throughout the development process, we will keep you updated on our progress and get your feedback to make sure that we are on the right track.

Testing
Once the app is built, our quality assurance team will put it through a rigorous testing process. We test for bugs, performance issues, and compatibility across a wide range of devices. This ensures that the app is ready for launch when it reaches your hands.

Deployment
After the app passes our quality assurance tests, it will be ready for launch! We will help you submit it to the App Store or Google Play, and we will continue to support you after launch to ensure that everything is running smoothly.
Who We Work With
We help businesses across various industries with innovative and cutting-edge mobile app solutions. We have a team of experienced and skilled professionals who have developed 2000+ apps for start-ups and enterprises. We offer a wide range of app development services that are tailored to meet the specific needs of our clients. Our services include strategy and consulting UI/UX design, development, testing, deployment, and maintenance. We also offer post-launch support to ensure that your app is performing optimally.

Start Up Business

Small and Medium Business

Enterprise

Agencies
Frequently Asked Questions
Do you have any questions about how we can help you with your mobile app development project? Here are some answers to commonly asked questions.
How much does it cost to develop a mobile app?

The cost of developing an app can vary depending on the features and functionality you require. Simple apps can cost as little as $2000, while more complex apps can cost up to $300000. The platform you choose to develop your app for can also affect the cost. Development companies will also charge different rates, so it is important to shop around and get quotes from several companies before making a decision. Ultimately, the cost of developing an app depends on a number of factors, but it is possible to get an estimate by taking all of these into account.

How much time does it take to develop an app?

The development time for an app can vary widely, depending on a number of factors. The complexity of the features, the uniqueness of the design, the need for third-party services, and other factors can all play a role in determining how long it will take to develop an app. In general, however, most apps can be developed in 1-9 months.

Will you provide documentation for my solution or mobile app development? Do I own the code?

As the best mobile app development company, we provide complete documentation for every mobile app software or solution that we develop. This way, you can always refer back to our work and see exactly how your app was made. Plus, you own the code of your app or mobile solution once the project is completed. This is just one of the many benefits of working with us – you can be sure that your app is in good hands from start to finish. Give us a call today to learn more about what we can do for you.

What are the different features that you have integrated into the mobile apps developed by you?

Here at Remote Stacx, we understand the importance of having a mobile app that is not only user-friendly but also packed with features that will take your business to the next level. Some of the must-have features we have integrated into our apps include: Payment Gateway Integration, Map Integration, Real-Time Tracking, Live Chat Support, In-app Messaging, Machine Learning Integration, Multi-lingual Support, Cross-Platform Ability, Push Notification, Social Media Integration, Search Bar With Filters

What are the security measures you take to keep the app secure and stable?

We sign an NDA before starting a project to protect your app's content. We disallow access to your app's content providers and apply network security measures to secure our office environment. Our workplace is constantly monitored to ensure the safety of your content.

Will you assist me to upload my mobile app on the App Stores (Google Play Store and Apple App Store)?

As part of our mobile app development process, we will upload your app to the App Stores, including Apple App Store and Google Play Store. This will ensure that your app is available to the widest possible audience and can be downloaded by anyone who wants to use it.

Will you provide any support after the completion of the project successfully?

Our technical support team is always available to help you with any problems you may have while using the app. We offer 3 months of free support, so you can be sure that we will be there for you when you need us.