Web Design Services: Get a Perfect Custom Designed Website for SEO and Mobile
The internet has become the most powerful marketing tool available to businesses today. A well-designed website is essential to success in the digital age. At Remote Stacx, we understand this better than anyone. Our team of award-winning web designers creates custom websites that are both beautiful and effective. Websites designed by Remote Stacx have a proven track record of increasing conversion rates and generating revenue for our clients. In fact, our design work has helped many of our clients achieve their business goals. If you're looking for a web design agency that can help take your business to the next level, contact Remote Stacx today. We'll be happy to discuss your project with you and provide a free quote.
Go for Web Design Services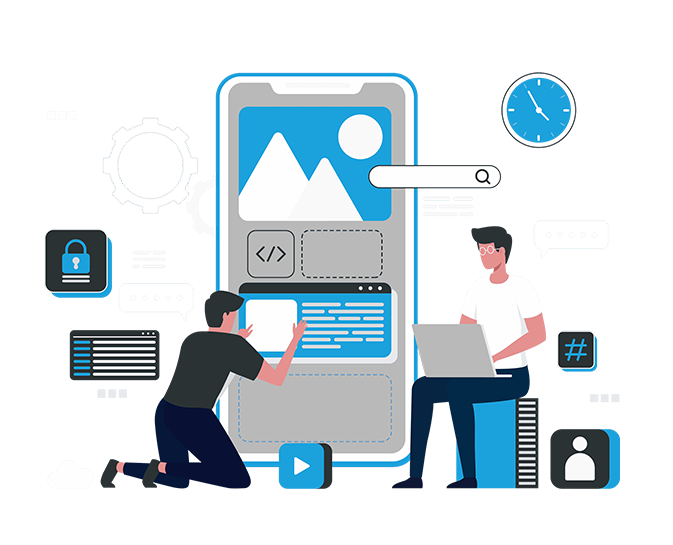 We Deliver Comprehensive Website Design Services
Exemplary Web Designs for Entrepreneurs, Startups, & Enterprises

Corporate Website Design
If you're looking for a web design company that can help you build a strong online presence, look no further than ours. We specialize in creating beautiful and informative websites that accurately represent your brand. We understand the importance of first impressions, and we'll work tirelessly to make sure your website makes a positive one. With our years of experience and dedication to customer satisfaction, you can rest assured that you're in good hands with us.

eCommerce Websites
Our web design services will give your business the online presence it deserves. We understand the importance of having a website that is not only aesthetically pleasing, but also user-friendly. Our team of experts will work with you to create a website that is tailored to your specific needs and requirements. We will include easy call-to-action buttons and multiple categories relating to your business for effortless use. With our help, you will be able to reach a wider audience and increase your brand awareness.

Customized Website
If you're looking for a website design company that can create a personalized website for your business, you've come to the right place. At Remote Stacx, we pride ourselves on our ability to create websites that are both unique and trustworthy. When it comes to website design, there's no one-size-fits-all solution. That's why we take the time to get to know your business and your audience before we start designing. This way, we can create a website that is tailored to your specific needs and goals.

Landing Page Design
It's time to take your business to new heights with our help. We'll provide you with a landing page that will showcase your business's goals and accomplishments. A landing page is the first thing your potential customers will see when they visit your website. It's important to make a good impression and give them a reason to stay on your page. We can help you create a landing page that highlights your business goals and achievements. We'll make sure it's eye-catching and informative, so you can keep those potential customers engaged.

Responsive Web Design
In today's competitive market, businesses need to have a website that is not only eye-catching, but also responsive to different devices. That's where our responsive web design services come in! We can create a flexible and fluidic experience for your customers, no matter what device they are using. With our years of experience and expertise, you can rest assured that your website will be in good hands. Contact us today to learn more about our responsive web design services!

Blog Website Design
Your blog page will be designed to be an extension of your website, while still maintaining its own unique look and feel. We'll make sure that your blog integrates seamlessly with the rest of your site, and that it's easy for visitors to find and navigate. We understand the importance of fresh content on a blog, so we'll design your page in a way that makes it easy for you to add new posts and pages. We'll also include features that allow readers to share your content with their social networks.
No. 1 Web Design Services India
If you're looking for a top-notch web design company, look no further than Remote Stacx. We specialize in creating beautiful, responsive websites that are sure to impress your visitors. From stunning typography to minimalistic navigation, we have the skills and experience to take your website to the next level. Plus, our CTA buttons are guaranteed to grab attention and convert visitors into customers or leads.
When it comes to website design, we believe in keeping things trend-centric. By understanding and closely following the latest web design trends, we are able to empower businesses with the benefits of advanced web technologies. In today's competitive online landscape, it is essential for brands to keep up with the latest trends in order to maintain a strong position against their competitors. Our team of experienced designers are well-versed in all the latest trends and can provide you with a responsive, clutter-free website design that will help improve your SEO, lead conversions and overall brand value. So whether you're looking for a static website or a dynamic eCommerce store, we've got you covered.
Work Process of a Leading Web Design Company
Our web development process is designed to deliver results. We start by understanding your business goals and objectives. We then map out a plan to achieve those goals through website design and development. Our team of experienced professionals work tirelessly to bring your vision to life. We use the latest technologies and best practices to create a high-performing website that meets your specific needs.

Discovery
When creating a website, we first and foremost conduct thorough market research to learn about your target audience, their needs and preferences, as well as your competition. This helps us create a website that truly reflects your brand personality and appeals to your target customers.

Prototype
We pay close attention to detail at this stage to make sure that every element works perfectly and meshes well with the overall design. Upon completion, we send the design to the client for feedback and final approval. Once everything is approved, we proceed to the next stage.

Design
Our team of experienced UI designers knows how to create visually appealing and user-friendly designs that engage visitors and encourage conversions. We stay up-to-date on the latest design trends and use the best colours, visual effects, typography, and animations to suit your brand identity. Whether you need a complete UI redesign or simply want to freshen up your site's look, we can help.

Development
Next, we implement functionalities to bring the site into life. We offer a comprehensive front and backend web solution with the help of the tech stack like React, Angular, HTML5/CSS3, PHP (Cake PHP, Laravel, CodeIgniter), Node.js, MySQL, MongoDB etc. Our team of developers is skilled in all these technologies and can develop a website that meets all your business needs.

Testing
When you're ready to launch your website, the last thing you want is for there to be any issues with the code, features, or functionality. That's why we thoroughly review everything before your site goes live. We test all the features and make sure everything is working properly. This way, we can ensure that your visitors have a great experience on your site.

Maintenance
When you need to make updates or add custom features, our expert web developers are here to help. We offer an extensive maintenance service that includes server load monitoring, code back-ups, and security audits. This way, you can rest assured that your website is always up-to-date and running smoothly.
Why Choose Remote Stacx?
Remote Stacx is the leading provider of iOS app design and development services. Our team of highly skilled designers crafts visually stunning apps that provide an incredible user experience. We always ensure to place every pixel at its rightful place, creating crisp, clean and functional designs. The results we deliver to our clients always exceed their expectations and exponentially increase their audience base. Our extensive team of designers work with full dedication to make sure that the designs seamlessly integrate with their intended functions. This attention to detail ensures that our clients' apps are not only beautiful, but also highly effective and successful. Contact us today to learn more about how we can help you take your app to the next level!

Layout
We build a layout that is sleek but artistically engaging and appealing.

Personalization
We will design a site that speaks your language alongside enticing web design.

Call-to-Action
Your users can easily communicate with you with simple call-to-action buttons.

To Information
We aim to offer you an optimal user experience (UX), with detailed information.
Frequently Asked Questions
As a leading website design company, we have listed some common faqs below which will give you an insight about website development cost, technologies, features, policies etc.
How much does it cost to build a website?

The cost of building a website depends on various factors such as the type of website, number of pages, functionalities, design, etc. Generally, the cost of building a simple static website ranges from $500 to $5000. However, if you want to develop a complex dynamic website with advanced features, the cost can go up to $10,000 or more.

Which technologies are used in developing a web application?

There are various technologies that can be used for developing a web application. Some of the popular ones are PHP, ASP.NET, Java, Ruby on Rails, etc.

Will the website be featured on the search engine?

Yes, all our websites are designed keeping in mind the latest SEO standards and guidelines. This ensures that your website is easily discoverable by your target audience on the web.

Is there any NDA policy?

Yes, we have a strict NDA policy in place to protect your confidential information.

Is it possible to get a PWA?

Yes, it is possible to develop a Progressive Web App (PWA) for your website. PWAs are websites that can be installed on a user's device and accessed like a native app.

Is it possible to see the website during the development phase?

Yes, we provide our clients with regular updates and progress reports throughout the development process. This way you can keep track of the project and provide your feedback at every stage.