UX Design Services in India
An appealing user interface (UI) and user experience (UX) design can give your users a memorable digital experience. If you're looking to create an engaging and intuitive interface for your users, consider hiring Remote Stacx, the top UI/UX design agency in India. With over 10 years of experience in the industry, we know how to create designs that are not only visually appealing but also easy to use.
Go for UI/UX DESIGN SERVICES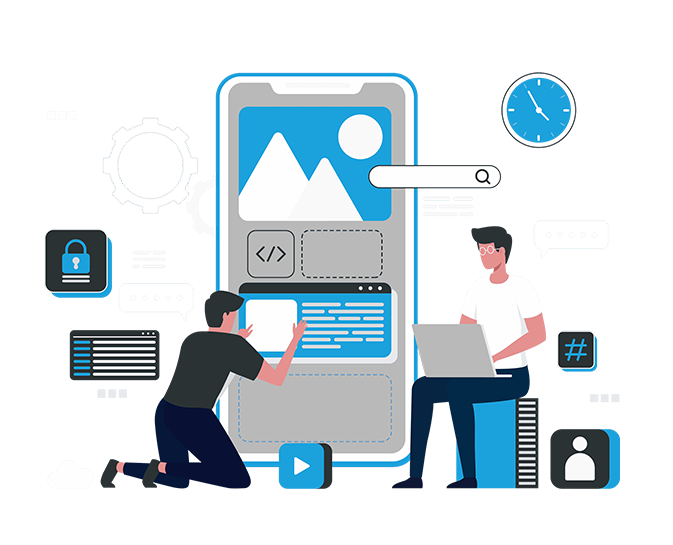 Delve deeper into our UX Design Services
We offer a wide range of ecommerce website development services that make us a one-stop choice for customers. We have extensive experience in developing ecommerce websites and can provide you with the best possible solution for your needs.

Prototyping
Prototyping is a key part of the design process, and it's important to get it right. A prototype can be anything from a simple sketch on a piece of paper to a more complex working model. The purpose of a prototype is to test out your ideas and see how they work in reality. If you're not sure where to start, or you need help taking your project to the next level, our team can help. We offer prototyping services that will help you take your designs from concept to reality.

Information Architecture
Information architecture (IA) is the practice of organizing and labeling websites, intranets, software, and other information-rich environments to make them easier to use. Good information architecture makes it easier for users to find the information they need and complete the tasks they want to do. Our team has the experience and skills necessary to create an information architecture that makes it easy for users to find what they need and complete the tasks they want to do.

UX (User Experience) Design
Create a user experience design that will make the reading experience more enjoyable. Our team is dedicated to creating a delightful experience for our users and we will continue to work hard to achieve this. Our UX design is focused on making sure that the end user has a great experience when using our product. We will continue to focus on creating a great experience for our users.

Wireframing
Wireframing is a great way to communicate design ideas and to help us think through the user experience. It can be especially helpful when working with a team of people, as everyone can have a clearer idea of what the end goal is. By creating a wireframe, we can get a better idea of how everything will fit together and how the user will move through the design.

User Experience Testing
We offer the best User Experience Testing because we want to make sure that our customers have the best possible experience when using our products. We believe that good user experience is key to a successful product, and we are committed to providing the best possible experience for our customers. Our team of experts will help you identify and fix any usability issues with your website or app.
Our Process
We are experts in developing user interfaces and user experiences. Our deep understanding of each project and comprehensive design solutions can help businesses tap into the full potential of design. We have the experience and skill to help your business design solutions that are user friendly and appealing to users. Our process takes all the details of your project into account and provides you with unique, customized designs.

Research
We also perform research to understand how the user interacts with the design and what are their expectations from it. We focus on every single detail to make sure that the design is perfect for the users. Our research helps us in creating designs that are not only visually appealing but also easy to use and navigate.

Wireframe
Our wireframe development approach helps you communicate detailed information clearly and efficiently, saving you time in the design process. We map the core functionalities and navigational flow, so that you can see how your design will work right away. This design-based approach is ideal for clients who want to get a sense of how their site will function before investing in a more comprehensive design.

Design
The design phase of a UX project is collaborative and iterative. Our teams work from information architecture (IA) creation to actual UI design. An effective design phase is both highly collaborative. Design specifications include all the visual design assets needed for developers to turn a prototype into a working product.
Why Choose Us As Your UI/UX Design Agency?
Remote Stacx is the best UI/UX design agency because they have the experience and skills to create beautiful and effective designs. Their team is able to understand the needs of their clients and create designs that are tailored to meet those needs. Remote Stacx also has a strong focus on quality, which ensures that their clients are always happy with the final product.
There are many reasons why you should choose Remote Stacx as your UI/UX design agency. We are experts in our field, and we have the experience and knowledge to create designs that are not only beautiful but also effective and user-friendly. Our team is passionate about creating top-quality designs, and we always put the needs of our clients first. We understand that each business is unique, and we work closely with our clients to create designs that reflect their individual brand and style. We also believe in providing value for money, so you can be sure that you will get excellent quality for a price that is affordable. Contact us today to learn more about our services or to discuss your project with one of our team members.
Remote Stacx is also known for their quick turnaround times, which means that clients don't have to wait long for their designs to be completed. In addition, Remote Stacx offers a wide range of services, which means that they can meet the needs of any client.
We also believe in providing value for money, so you can be sure that you will get excellent quality for a price that is affordable.
Reach Us Here
Frequently Asked Questions
Here are some Frequently Asked Questions, or questions that are commonly asked by people
What is the difference between UX and UI?

User experience (UX) design is focused on how a user interacts with a product, while user interface (UI) design is more concerned with how the product looks. A good UX designer will make sure that the product is easy to use and navigate, while a good UI designer will make sure that it looks appealing to users.

How much does UI/UX design cost?

The cost of UI/UX design can vary depending on the scope of the project, but it is generally more expensive than standard web design. However, the benefits of good UX design are often worth the investment.

How do we know if it's the right solution?

The best way to know if a UI/UX design is the right solution is to test it out with users. A good UX designer will be able to create prototypes and user feedback surveys that can help you determine whether or not the new design is successful.

How long does the process take?

The length of time required for a UI/UX redesign project will vary depending on the scope and complexity of the project. However, most projects can be completed within 2-4 weeks.

Why is User Experience Design important?

User experience design is important because it can help you improve your product's usability and achieve better results in terms of sales and customer satisfaction. Good UX design can also help you save money in the long run by reducing support costs and improving customer retention rates.