Machine Learning Engineers
Hire artificial intelligence developers to deliver individualised customer experiences, reimagine your entire business process with digital intelligence, and create data-driven solutions.
With a team of the best machine learning engineers, Remote Stacx is a leading machine learning company that helps clients from all over the world transform their businesses by implementing and providing tailored machine learning solutions to meet their unique needs.
Go for Machine Learning Engineers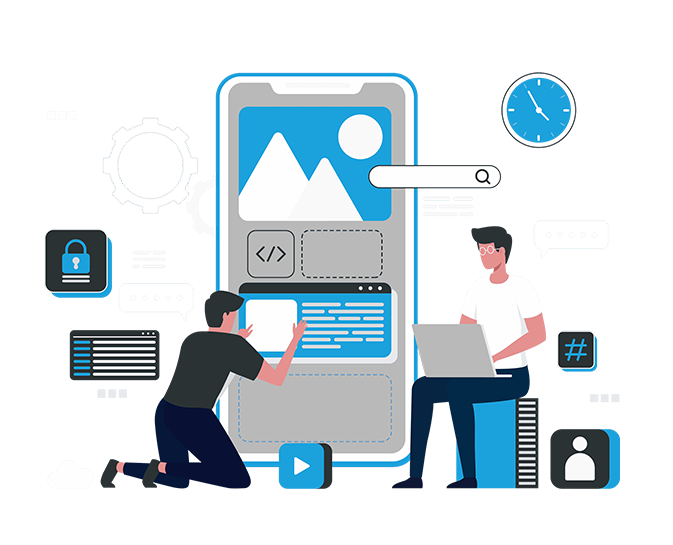 Superior Machine Learning Development Services from Us
To create specialised Machine Learning solutions, our talented ML Developers use a special pre-defined methodology.

Recommendation Systems
With the help of our devoted Machine Learning experts, we can create AI solutions like recommendation systems that motivate users to buy the products they are interested in based on their prior purchases and viewing patterns.

AI-Powered Chatbots
Hire our online Machine Learning specialists to create AI-powered Chatbots that can comprehend human conversations, perform particular tasks, and give clients answers to their inquiries in real-time.

AI-Based User Behavior Analysis
Utilize machine learning algorithms to analyse user behaviour on your website and spot trends that can be used to enhance the layout, content, marketing tactics, etc. of your website.

AI Process Automation
Hire online machine learning developers to create AI tools and solutions that can improve the efficiency of your sales pipeline, supply chain management, and financial operations.

Image Processing Solutions
Through the integration of neural networks into their environment and the use of image processing to recognise and track objects in still or moving images, our machine learning engineers give machines the ability to solve the text translation problem.

Data Mining
Making decisions based on data is now simpler than ever thanks to the expertise of our machine learning specialists, who extract information and convert it into a useful and understandable model for business use in real-time.
Technology Areas We Focus On
Our machine learning specialists utilise the most cutting-edge tools available.

TensorFlow

Keras

PyTorch

Caffe
Why go for machine learning services?
Businesses are using machine learning services more frequently to enhance decision-making, increase productivity and profits, and stay ahead of the competition. The following are some of the main causes for which more and more companies are using machine learning services:

Increases operational efficiency
By automating particular tasks and processes, machine learning services can help businesses become more productive.

Improving system security
By identifying and preventing cyberattacks, machine learning services can also assist businesses in enhancing the security of their system.

Enables more effective decision-making
By analysing data and offering insights that would otherwise not be available, machine learning services can assist businesses in making better decisions.

Boosts profits
Businesses can increase their profits by optimising their operations and marketing strategies with the aid of machine learning services.

Provides increased customer engagement
By making personalised recommendations and offers, machine learning services can assist businesses in growing customer engagement.

Improves Research and Development
By offering insights into potential new product and service opportunities, machine learning services can assist businesses in strengthening their research and development efforts.
How can you hire a Machine Learning Developer with Remote Stacx?

Share your project idea
Drop your demands or complete the form. We evaluate your needs and provide a general time, resource, tech stack, etc. estimation.

Screen our candidates
After vetting our candidates for compatibility with your needs and your team, choose the ideal match.

Sign a contract & start development
We sign a non-disclosure agreement and a number of other papers before adding the resource to your team and beginning development.
Frequently Asked Questions
When it comes to hire machine learning engineers, our clients frequently ask us the following questions:
Why are Remote Stacx Machine Learning Engineers better?

It's like having Silicon Valley right at your fingertips when you work with Remote Stacx. Our technology specialists are seasoned professionals from top tech firms like Google, Apple, and Facebook. Instead of hiring freelancers, you can use our Teams as a Service platform to collaborate on-demand with other leading technology experts and highly qualified Machine Learning Engineers. Tired of high-priced agencies, subpar outsourcing, and shady independent contractors? Look nowhere else.

How can I quickly hire a Machine Learning Engineer with less risk?

Simple. Send us a request or give us a call so we can learn about your objectives, demands, and timeframe - without cost. We'll then put together a team or choose a pre-screened Machine Learning Engineer from Remote Stacx. Start right away with no obligations and easily grow or shrink your team. You can concentrate on your roadmap rather than hiring by using our flexible engagements, which can change at any time based on your needs.

How much does it cost to hire a Machine Learning Engineer?

You are in charge! To fit your needs and budget, we offer flexible engagement options (one-time service block, monthly subscription, or pay-as-you-go). There are no upfront costs or additional fees. Only when your machine learning engineers are actively working on your projects will you receive a bill. By removing idling time from our clients' payrolls, we have helped them save millions of dollars. Our patented technology matches the best talent with the best opportunity at the best cost. To deliver more while spending less, you'll have complete visibility into your utilisation and the ability to swap in and out additional talent.

What technologies or programming languages do your ML developers use?

Some of the critical programming languages and technologies used by our ML engineers and Developers are: TensorFlow, PyTorch, Apache Mahout, Spark, Hadoop, Apache Kafka, IBM Watson, MATLAB, C/C++, Java, Swift, Python, JavaScript, React Native, Pandas, Matplotlib, Tableau, Jupyter Notebook, NumPy, Scikit-learn, NLTK

What are the roles and responsibilities of dedicated machine learning programmers?

Depending on their qualifications, knowledge, and experience, machine learning developers have a variety of roles and responsibilities. An ML developer's typical duties include things like: Analyze and make changes to data science prototypes Make machine learning systems. The best machine learning tools and algorithms should be found and used. Create machine learning applications that adhere to the guidelines Select appropriate datasets and data representation methods. test and experiment with machine learning Make use of test results for statistical analysis and optimization. System retraining as necessary and training as needed current machine learning frameworks and libraries Follow developments in the market.

Why should I hire machine learning developers from India?

There are many reasons to hire Indian ML developers, some of which include: Huge talent pool There are no language barriers and all managers speak fluent English. Comparatively economical Open arms and a positive outlook on work benefits of time-zone flexibility No sacrificing of quality Knowledge, skill, and experience diversity 24/7 assistance No additional fees or conditions