Ecommerce Website Development Services: Drive More Sales
A custom ecommerce website is a great way to attract more online traffic and sales. At Remote Stacx, we specialize in custom ecommerce website development, which includes a custom and responsive design for platforms like Magento and WooCommerce. Plus, our ecommerce websites are optimized for search engines, so your potential customers can easily find you online. Contact us today to learn more about how our ecommerce web design services can help grow your business!
Go for Custom Software Development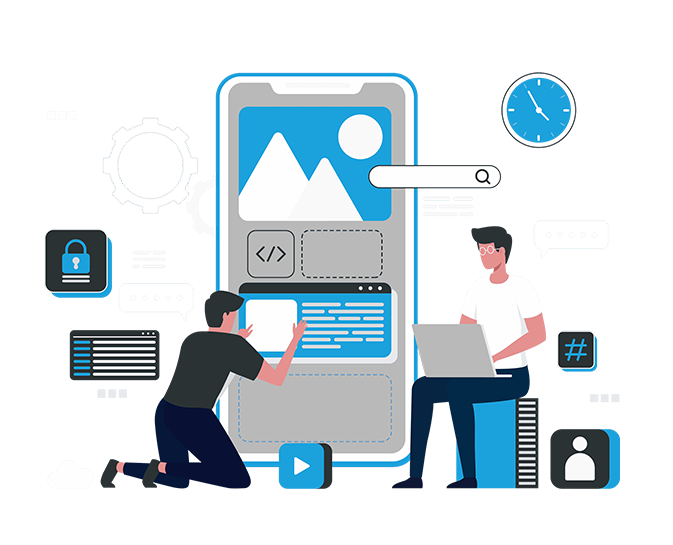 Our Offerings in eCommerce Web Development
We offer a wide range of ecommerce website development services that make us a one-stop choice for customers. We have extensive experience in developing ecommerce websites and can provide you with the best possible solution for your needs.

B2C eCommerce Platforms
Websites are the new storefronts for businesses in the digital age. At Remote Stacx, we specialize in creating websites that are interactive and feature-packed, with advanced eCommerce tools that increase efficiency and productivity. We empower businesses to connect directly with their customers through our innovative web portals, driving growth and engagement.

B2B Marketplaces
At Remote Stacx, we empower our clients by providing them highly-efficient B2B marketplaces that recur growth. We have a team of experienced professionals who are well-versed in building B2B marketplaces from scratch. With our years of experience and expertise, we are able to provide our clients with the best possible solution that meets their specific needs and requirements.

Multi-Vendor Platforms
At Remote Stacx, we bring together multiple vendors on a single, powerful and effective eCommerce platform. This allows every business the opportunity to sell their products or services online. We use cutting-edge technologies to create promising multivendor marketplace solutions. Our platform is designed to be easy to use for both vendors and customers. It is packed with features that allow businesses to list their products or services, manage orders and track inventory levels.

CMS Integration
We have expertise in integrating eCommerce platforms like PrestaShop, OpenCart, Zen Cart, osCommerce, Magento, WooCommerce, and Shopify to empower your marketplaces excelling in the capabilities of your business with maximum potential. These platforms enable us to bring eCommerce in a more lucrative form for our clients. We work on every minute detail while implementing these platforms so that our client's business is able to get the best out of it.

Migration & Upgrade
As the eCommerce industry is constantly evolving, it's becoming more and more important for businesses to have an online presence. We specialize in helping businesses move their conventional web portals to modern-age, capable, feature-packed, customizable and more secured eCommerce platforms. We use advanced technology to fulfill the complete aspirations of every business regardless of their size or industry-domain. Our team of eCommerce experts will work with you to understand your specific needs and requirements.

API Integration
To simplify the eCommerce development process, we offer a solution that integrates advanced APIs for different objectives into one platform. This allows businesses to focus on their core product or service, while we take care of the technical details. In addition, our platform provides precise analytics support to help businesses track their progress and optimize their operations. If you are interested in simplifying your eCommerce development process, contact us today.
Our Smart Approach For eCommerce Web Development

Discovery
Our development process begins with market research. We collect data on the target audience, their needs, and wants. This data is used to develop a strategy that will help us identify the feasibility of the project. After the market research is complete, we find business objectives and gather the required data.

Design
Our wireframing process is designed to help simplify and streamline web design projects. By starting with a basic framework, we can quickly create a prototype that can be used to gather feedback and make changes before moving on to the final design. This approach saves time and money by allowing us to avoid costly redesigns later on.

Development
In this phase, we place all the pages and contents in a CMS where we develop the other website's elements and web pages. This is done so that the client can see how their site will look once it is completed, and also to ensure that all the content is properly formatted and easy to read. We also add any interactive features or plugins that are needed at this stage.

Testing
We use a variety of testing methods to ensure that our website is functioning properly and that there are no bugs or other issues. We test the performance of the site, as well as its usability and user experience. We also check for any security vulnerabilities. By thoroughly testing the website, we can be confident that it will provide a good experience for users.

Deployment
We offer a complete range of website deployment services to help you get your site up and running quickly and smoothly. We can handle everything from choosing the right hosting platform to configuring DNS settings and everything in between. We'll make sure your site is accessible to everyone who needs to see it, and we'll do it all in a way that minimizes downtime and disruption.
Reasons to Choose Us as Your eCommerce Development Company

Decades Of Experience
The eCommerce development services provided by Remote Stacx are of the highest quality. Our team of certified developers have extensive experience and are committed to meeting the needs of our clients. We provide full-fledged ecommerce services to businesses of all sizes, across the globe. Whether you need a simple online store or a complex multi-store setup, we have the skills and experience to get the job done right.

On-time Delivery
We know that meeting project deadlines is important to our clients. Our team of skilled ecommerce website developers are dedicated to providing the best possible service and ensuring that our clients' needs are always met. We never compromise on quality, and we always put our clients' time and money first. With us, you can be confident that your project will be completed on time and to the highest standards.

Agile Development Process
Our team is skilled in using advanced tools and technologies, which allows us to create innovative solutions that meet the needs of our clients. This approach ensures that we can rapidly respond to changes and deliver a product that meets the highest standards. Our commitment to excellence ensures that our clients receive a website that is reliable, easy to use, and provides a great user experience.

Support & Maintenance
When you partner with a leading ecommerce website development company like ours, you can rest assured that you will receive the best possible support and maintenance services. Our team of professionals is always ready to provide immediate assistance whenever you need it, day or night. We can help you resolve any product-related issues quickly and efficiently, so that you can keep your business running smoothly.

High Performance
We believe that performance is the most critical aspect to make ecommerce development successful. We take every measure into account while ecommerce development to offer seamless performance. Our team of experts are well-versed in different aspects of ecommerce development and are always up-to-date with the latest trends and technologies.

NDA Policy
We understand how important it is to keep our clients' data safe and confidential. That's why we take the necessary measures to protect any sensitive information that they share with us. We sign non-disclosure agreements (NDAs) with our clients to ensure the privacy and security of their project data. Rest assured that your data is in good hands when you work with us. We will never divulge any confidential information without your consent.
Frequently Asked Questions
Here are some questions we commonly get about our eCommerce web design and development services.
Do you offer custom eCommerce website design and enterprise solutions

Yes, we offer both custom eCommerce website design and enterprise solutions. Our team of experienced designers and developers can create a unique eCommerce website that meets your specific business needs. We also have a wide range of enterprise solutions that can be tailored to your company's size and requirements.

What eCommerce platforms do you work with?

We work with a variety of eCommerce platforms, including Magento, Shopify, WooCommerce, and BigCommerce. We can also develop custom solutions for businesses that have specific requirements.

Do you have eCommerce SEO and conversion optimization services?

Yes, we offer both eCommerce SEO and conversion optimization services. Our team can help you improve your website's ranking in search engines and increase your conversion rate. We'll work with you to understand your goals and create a customized plan to achieve them.

How much does an eCommerce website cost?

The cost of an eCommerce website depends on a number of factors, including the size of the site, the number of products, the features required, and the platform. We work with businesses of all sizes and can create a custom solution that meets your budget.

Will my eCommerce website be responsive and work on all mobile devices?

Yes, all of our eCommerce websites are responsive and work on all mobile devices. This ensures that your site will look great and function properly no matter what device your customers are using.

Will my eCommerce website be secure?

All of our eCommerce websites are built with security in mind. We use the latest security technologies to protect your site and your customers' data. You can rest assured knowing that your website is safe and secure.

Do you offer a warranty or guarantee?

We offer a one-year warranty on all of our eCommerce websites. This covers any defects in workmanship and ensures that your website will be free from glitches and errors. We also offer a money-back satisfaction guarantee so that you can be confident in your purchase.

What forms of payment do you accept?

We accept all major credit cards, including Visa, Mastercard, American Express, and Discover. We also accept PayPal and bank transfer for your convenience.